Central Utrecht Science Week pavilion in Botanical Gardens
3 March 2022 – The Botanical Gardens will be hosting us all week in a very special tent: The Cavalho,
It was built by tentmaker Willem Hol as a replica of the original horse stable at Circus Strasbourg. 'Cavalho' is Italian for horse and the wooden entrance doors have been decorated with two life-sized horses. The tent was set up for the first time during the Oerol Festival on Terschelling.
We will be using this unique location to host presentations, official receptions, lectures, workshops and informal meetings throughout Utrecht Science Week. The pavilion also serves as a central information point.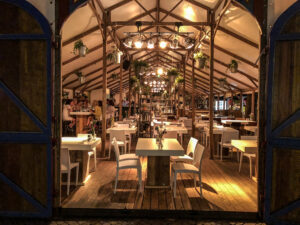 Sfeerimpressie paviljoen Utrecht Science Week